News
Nagoya University visit shepherds Launch Chapel Hill into their new home
Launch Panelists: Becca Jordan Wright (virtually), Scott Maitland, and Steve Beisser discuss their Launch experience with visitors.
Launch Chapel Hill has undergone monumental changes, including a move into the new downtown Chapel Hill innovation hub, the Junction. The new building serves as a connection from East Franklin St. to East Rosemary St and is now open to the public. The small business accelerator nonprofit is the first organization to be operational in the new building, with others like Hutchinson to follow in the coming months.  
Last week, Launch welcomed visitors from Nagoya University, a Japanese national research university. Nagoya is one of five national universities in the Tokai region that is part of a new entrepreneurship program, the Tongali Project. The visitors were here to learn about Launch's programming and the support it receives from UNC-Chapel Hill and the Town. The Town's new Economic Development Manager, Katie Bowden, had the opportunity to highlight innovation and collaboration to the visiting professionals. She focused on conveying that the innovation district is only made possible by long-term strategic planning by the Town and our community partners including UNC and the Chapel Hill Downtown Partnership. Bowden noted the efforts and upcoming development projects on East Rosemary will contribute to the larger downtown ecosystem that promotes stability for our local businesses.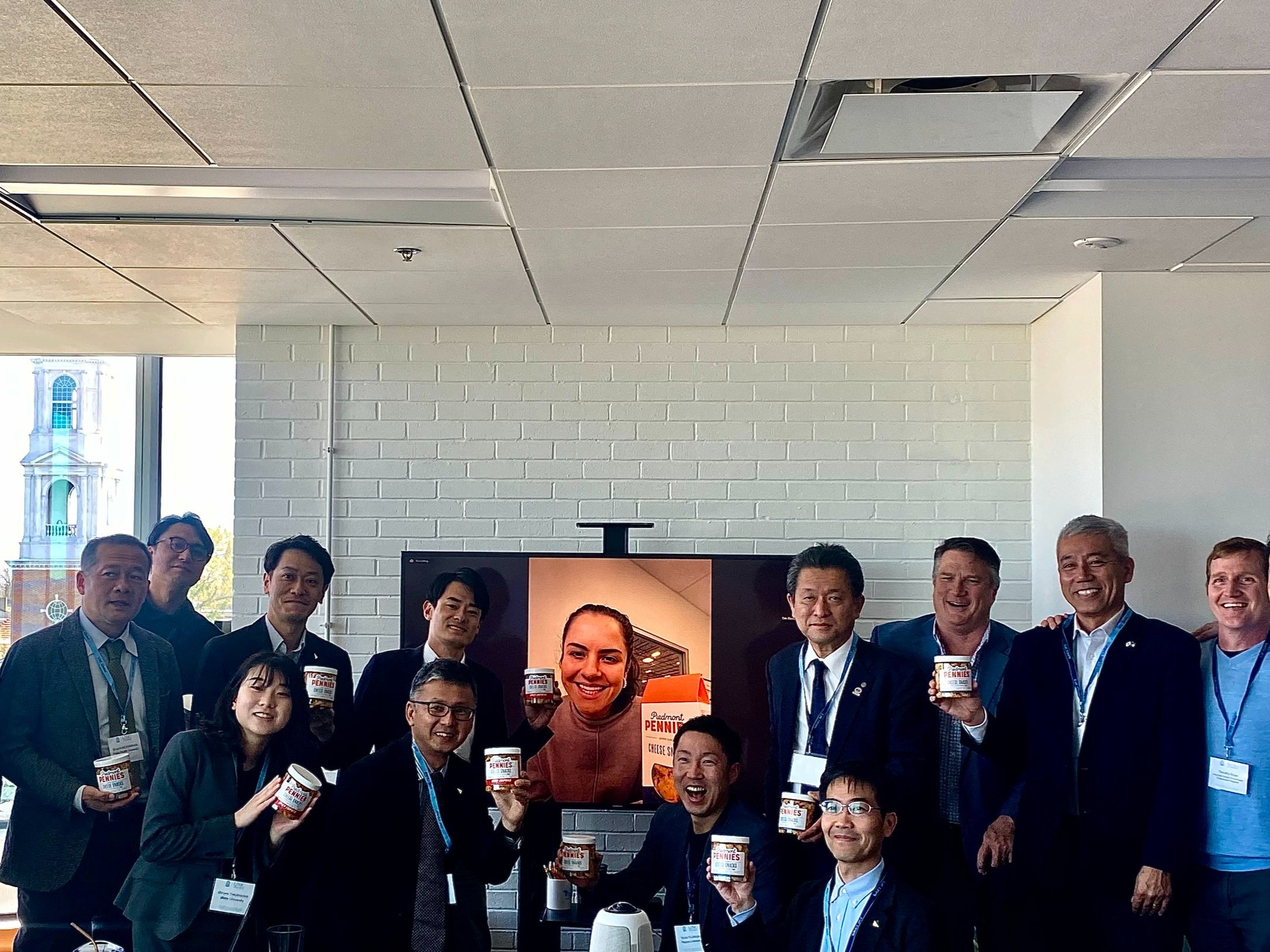 Visitors from Nagoya University, UNC's Timothy Rose, and Launch Panelists: Becca Jordan Wright (virtually) and Scott Maitland
In addition, the lunch session included a panel of previous Launch participants: Becca Jordan Wright, Scott Maitland, and Steve Beisser. Wright is the founder and lead of Piedmont Pennies, as well as a UNC MBA Alumni. Maitland is the owner of Top of the Hill, actively teaches classes on entrepreneurship at UNC Kenan-Flagler Business School, and now serves as a Launch Mentor. Beisser serves in the same mentorship and teaching roles, having co-founded the Academic Benchmarking Consortium (ABC Insights) which was acquired by HelioCampus, Inc. These Launch Alumni had valuable input for the visitors on creating an encouraging environment for entrepreneurs. Starting a business or developing an idea is rarely a straight-line path, they noted, as every entrepreneur will experience setbacks. They further emphasized that the program leadership must leave room for these entrepreneurs to fail and provide the support needed for them to continue forward.  
Launch, UNC, and the Town are integral to creating an entrepreneurial ecosystem that retains the wealth of talent graduating from UNC, which improves economic vitality and helps to recruit new businesses to the area. By bringing in opportunities for individuals to work year-round downtown, foot traffic and local spending increases, offering support to downtown businesses during the university's academic breaks. 
The Town of Chapel Hill is working in collaboration with the Chapel Hill Downtown Partnership and Innovate Carolina as we work to improve our downtown, balancing tradition with progress in downtown Chapel Hill, making it a vibrant place to work, live, play, and shop.