News
Healthcare IT firm leads charge as growing number of startups pick Chapel Hill for HQ
David Werry
Three years after setting up its Chapel Hill headquarters, this digital healthcare startup has more than quadrupled its headcount and added $120 million to its coffers.
Well Dot, "Well," a health technology firm that provides access to vetted health partners, has grown to a team of roughly 100 employees since its launch. It also recently landed $70 million in Series B financing led by Arizona-based Valeas Capital Partners. That's on the back of raising $40 million in 2020 and $25 million in seed funding in 2019.
"Well has scaled rapidly," said its co-founder and chief executive officer Gary Loveman. "We're enthusiastic about the levels of engagement."
Added David Werry, co-founder and chief operating officer: "The rapid growth of our user base and opportunities across distribution channels is continuing to enhance the quality of our insights and ability to deliver meaningful partnership to each member on an individual level."
Both are former Aetna execs. They designed Well to be a proprietary "all-in-one" health guide platform using artificial intelligence (AI). Engaging members through a phone-based app, it sends reminders, offers clinical and behavioral health tools, and connects users with services and on-demand experts. It also includes a personalized 21-day health journey with rewards and tips.
"Our vision is that everyone should have access to a trusted, daily health partner," Loveman said.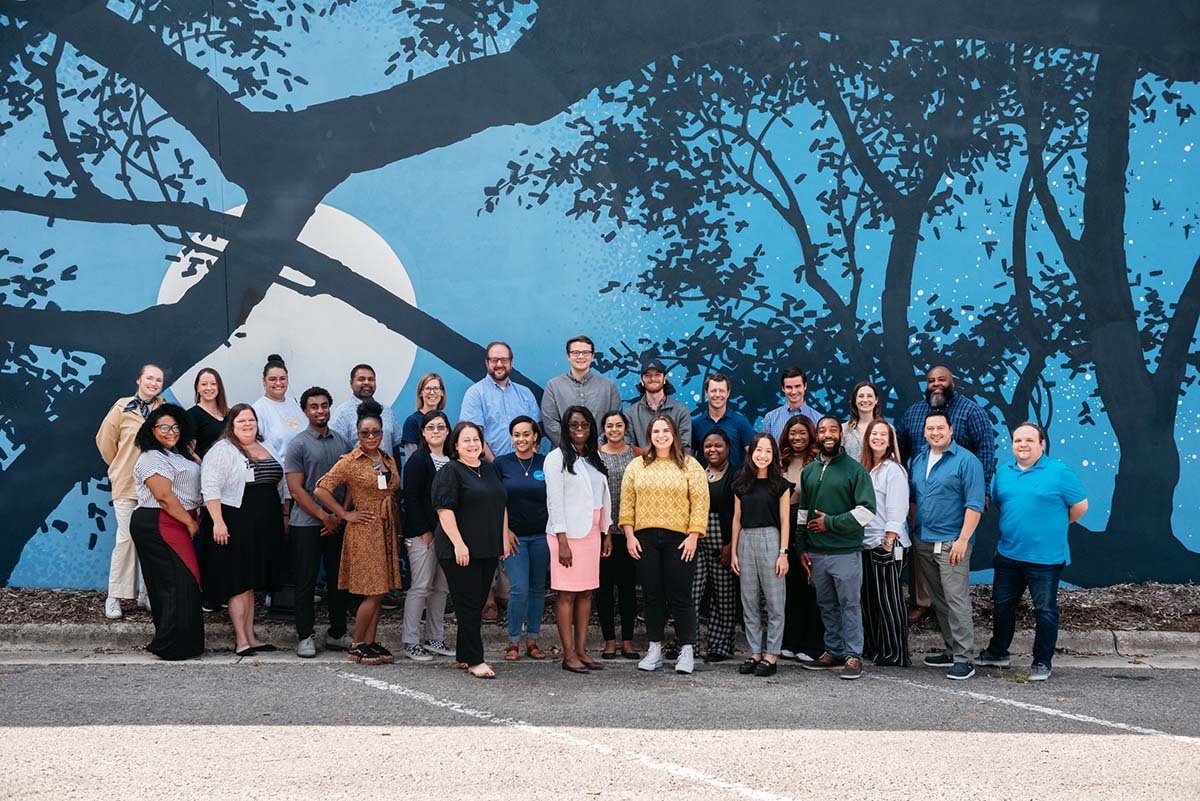 Homegrown startup
Loveman and Werry initially met over a decade ago through UNC-Chapel Hill connections. Werry is a graduate of the university, while both of Loveman's daughters went to the school.
They first partnered together at health insurer Aetna, where they led the company's Consumer Health & Services division.
When CVS acquired Aetna in 2018, they left the company to focus on addressing the challenges of patient engagement in healthcare. Primary care and preventive screening rates are low, data has shown, leaving many at risk for worse chronic disease outcomes and stark care gaps.
The duo's vision centered around combining the latest consumer technology advances — hyper-personalized, mobile-first, AI-driven — with a "high-touch, concierge service." These efforts ultimately led to the founding of the company in early 2019.
Well now serves "thousands of members" across many corporate clients. It's also working directly with community health organizations and consumer brands, and partnering with UNC-Chapel Hill and UNC Health Care on a "variety of initiatives and opportunities."
"Well has developed a differentiated and fundamentally unique offering," said Woiteshek of Valeas Capital Partners, one of its lead investors. "Well's platform stands apart amid a crowded marketplace trying to improve a broken consumer experience for more than 100 million people."
In 2019, Well picked Chapel Hill over Boston for its $3.1 million main operations center at 419 W. Franklin Street. It also has offices in Newton, Mass.; Minneapolis, MN; and New York City. In exchange, the state offered a $3.9 million incentive package through a job development grant. The town of Chapel Hill and Orange County also chipped in a combined $981,000.
"The incentives provided at the state and local level were critical in narrowing the final decision down," Loveman said.
Other big draws: Chapel Hill's "favorable" business climate anchored by university; its quality standard of living; and its access to an available talent pool of clinicians, engineers, and other employees in the surrounding Triangle area, he said.
"We've never had a day of regret," Loveman said. "Chapel Hill has become an integral thread in the DNA of our company."
Growing trend
Well is just one of several tech firms that have opted to be headquartered in Chapel Hill in recent years. Google set up an outpost in the town a few years back. Promising tech startups like CData Software and Quantworks also call Chapel Hill home.
That number is only expected to rise with new projects in the pipeline, said Dwight Bassett, the town's director of economic development & parking services.
Chapel Hill's new innovation hub – encompassing two buildings at 136 Rosemary Street and the adjoining 137 East Franklin Street – is currently being redeveloped by Charlotte-based Grubb Properties. It will occupy seven floors and roughly 118,000 square feet of space, including co-working offices and wet labs. It's expected to open mid 2023.
In addition, the town recently approved Grubb Properties' 238,000-square-foot, 7-story office building and wet lab facility on the 1.5-acre parcel at 150 East Rosemary. Meanwhile, roughly 106,000 square feet of high-end office space is already available at the recently launched The Gwendolyn on Glen Lennox Drive. Coworking firm Industrious has already moved in, taking up an entire floor in the new building.
"Until now, one of our biggest challenges in Orange County has been retaining talent," Bassett said.  "We educate these wonderful students at UNC, they come up with these amazing ideas, and then they leave because we didn't provide the infrastructure for them to stay."
But that's now changing, he said.
"With the innovation hub and startups like Well establishing a foothold in the region, they now have the opportunity to go to school and then settle down here because we can provide jobs for them."
Startups affiliated with UNC-Chapel Hill generated more than $14 billion in revenue during the fiscal year 2021, with 95% of that revenue being generated by companies headquartered in North Carolina, recent analysis by Innovate Carolina shows. That translates to more than 12,000 jobs across the state.
Meanwhile, Well's founders said expansion plans for its company are already underway.
The startup intends to move into the building down the street that currently houses the Chapel Hill/Orange County Visitors Bureau by "late 2023."
"We expect to scale our headcount rapidly in the coming years," Loveman said. "We plan to be an active partner in building a startup community here in Chapel Hill that bolsters all the ingredients needed to drive innovation, from talent to culture to infrastructure."